The ALL NEW COURT REPORTER 5000 Digital Recorder is here in 2019 with these improved Features:
New Extended battery Life 27 Hours

New Rechargeable Battery included for Free so you do not have to buy batteries

Records in MP3 or Wav audio files

New Adjustable playback speed 30% Faster and Slowing Down 25%

New Cradle for a more professional stand for the recorder

New instant Rewind for playback or read-backs

Onscreen bouncing record indicator for assurance that you are getting an audio recording
Limited Supply,

We are experiencing shortages.
Meet the World's only Digital Court Reporter, Recorder and Transcriber all in one package.

Are you plagued by unreliable recording and transcription on your computer?

If you are looking to simplify your world, this is the only way to go digital, without the hassles of a computer For the first time in your life

you will experience HD theater quality audio recordings

.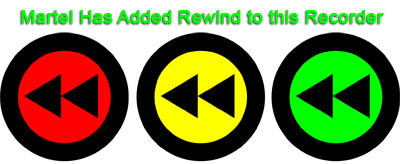 Now you can stop a recorder rewind and do a read-back.
The unit operates like a tape recorder and tape transcriber. It has one button to start recording and one button to stop. At night when you are ready to transcribe, simply plug the foot pedal into the unit and it becomes a tape transcriber. It's that easy.
If you've been using an auto reverse tape recorder and a cassette tape transcriber with foot pedal, transition for you will be simple. It has 500 hours of recording time and allows you to make a new file for each job, keeping them separate and safe.
Use your Court Reporter 5000 for accepting a cable input Videographers mixer out so you can get the perfect audio from his microphones.
Your recorder can accept line level and microphone level. Changing between microphone level and line-level is easy. Press the menu button. Go down to recorder, press enters
Go to line-in, press enter, highlight on\off press enter. Off is microphone level on is line-level. Make sure the check mark is next to your desired setting.
A special feature by Martel now available is time stamping for Audio Synchronization. Martel understands this is a time of transition for recording technology and has brought to you the latest in time saving tech.
Special Note To Court Reporters: The most important feature of the Digital Court Reporter 5000 is that it is interference FREE from attorneys iPhones and Blackberries, due to our filter modification. World's Only interference FREE Digital Recorder. So if you are under pressure don't worry about your recordings with the Digital Court Reporter 5000 to back you up. Replace your old tape recorder and transcriber with the Court Reporter 5000.



Four Reasons To Choose the Digital Court Reporter 5000

It Can NOT be interfered with by Wifi, 3G, Blackberry, iPhone or Radio Signals.


No need for a Computer to transcribe, just plug the foot pedal into the recorder.


The audio file can be Imported into your Audio Sync program such as Case CATalyst, Eclipse and StenoCat. It will then sync up with your text, providing a TRUE BACKUP in case your computer fails.



Unlimited Pause.

Pause mode allows you to pause the recorder at lunch or break, then resume recording in the same file upon returning. This allows you to keep just 1 file for the whole day. All other digital recorders when you stop or pause they create a new file so you end up with 11 files or more for one job.
"Eleanor Pickett, a certified court reporter from Birmingham, Alabama says: The Recordings on mine Court Reporter 5000 are 10 Times better than my Audio laptop recordings! It's a MUST HAVE!"
Almost too easy, 11/16/2011
NCRA Carl Trieloff Email (Elizabethtown, KY)
I've been a court reporter for 38 years. Several years back, I bought a Marantz cassette recorder from Martel. I plug in a headset to monitor the tape and also improve the hearing. Since I'd had that for about 10 years, I looked into new technology, because cassettes are getting rare, and so are transcribers. So I bought this new digital recorder... And it is blowing me away. The clarity of the sound is unbelievable, and the capacity of the flash memory frees you from worrying about having to watch for the end of the tape to turn it over. If you haven't upgraded in the last 5 years or so... You really need to look into this recorder. You'll be amazed how it changes your reporting confidence. And it's so easy to use I sometimes wonder what I'm not doing that I should be.
The Court Reporter 5000 Picks up voice better than my own ears. It's my most loved pieces of equipment I own. I highly recommend it to every Court Reporter. It's saved me many times with a superior voice recording. It's like High Definition audio for Court Reporters. Try it, and you will agree with me!
JACKSON COURT REPORTING SERVICES
JONETTE C. JACKSON ATHENS, TEXAS

"I have ordered Martel recorders and microphones over the last 16 years and have always found them to be of excellent quality. It seems like they are continually improving their products and that is why I always return to them for new recording equipment. My last purchase was a few months ago when I ordered the Court Reporter 5000 digital recorder with the foot pedal to be used as a transcriber and the Martel Hi Gain court reporter microphone. I cannot believe how clear the sound quality is on my recordings in the courtroom. That is why I am back to order another Martel Hi Gain court reporter microphone for my court reporting machine now. And I love the fact that I can input the wav files from the Court Reporter 5000 into my Eclipse Software files if I need to, and that I can also upgrade the memory card so high for longer recording time."
PHELPS COURT REPORTING, Patricia Phelps - Texas CSR
Best money I ever spent!
Fantastic recorder! The microphone picks up better than any other mike I own. Love the small size and easy-to-use bottoms. My only nitpick would be that it has a very small footprint and is easily knocked over by attorneys with lots of paper. Wish it had a brace or bracket on the bottom to make it hold its position better. One day it was knocked off the attorney's table, and it kept on recording without a hitch! Love how I can transcribe right from the recorder without having to move the files over to a transcribing software. Very happy with this purchase!
Jennifer Blalock
If you have a problem with your computers Audio recordings, the Reporter 5000 has the solution. Made with court reporters in mind, you can import the audio from the Reporter 5000's digital recorder directly into your court reporting software such as Case CATalyst, Eclipse and StenoCat. The Time date stamps that we have provided will sync and import. (Martel provides detailed instructions on how to import the wav file back into your court reporting software) This will allow you to recover the audio from the Reporter 5000 back up the digital recorder to your court reporting software in case you lose your laptops recordings or your recordings are interfered with due to Blackberry phones etc.