The Best Dragon Voice Recognition Dictation Equipment Package for Lawyers is the only one in the world that incorporates a professional hand held dictation recorder that works just like a tape recorder.
The lawyer will see how familiar its use is. Now we full install and support from Martel. It uses a slide control on the side of the dictation recorder that allows them to rewind and make corrections. When the legal dictation is done the lawyer takes the recorder and places it into a docking station, which automatically downloads the file off the recorder, and the secretary opens up dragon voice recognition and starts to type up the document for them. The voice recognition software, runs in the background and the recorder can be taken off the docking station almost immediately.
The dragon transcribing software has recently been upgraded so the Lawyer can take full control over almost every feature of the computer from his voice.
This dictation recorder bundle is meant for the small or medium law firms. One of the most frustrating parts of being a lawyer is having to deal with turning voice into documents. Luckily Martel has a great solution for lawyers that won't break the bank. This voice recognition package comes with support for the year to come. Even if you are a lawyer on the go you can email the files back to the office and Dragon will handle the transcribing.
Check out the organizational flow chart below describing the use of Dragon Naturally Speaking with a digital voice recorder or smartphone in your office.
Voice recognition for lawyers saves time, grants more control over legal dictation and increases billable hours for your law firm.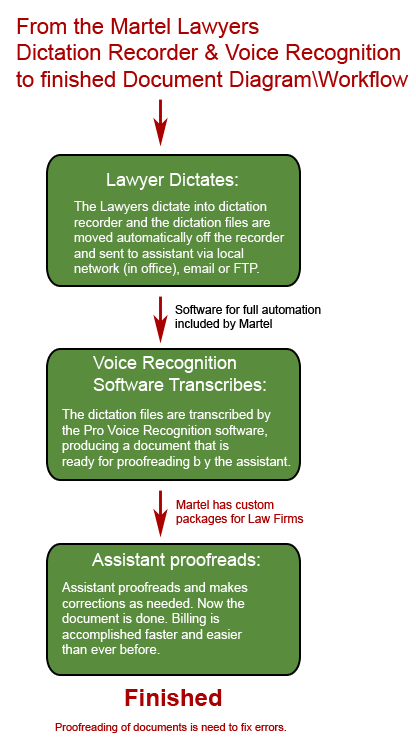 Dragon Naturally Speaking lets lawyers & legal professionals make documents, create e-mail, and completely control their computer by voice using voice recognition technology made specifically for law offices. Imagine working three times faster than normal on your computer, and typing five times faster than normal with 99% accuracy.
If you're working in a corporate legal department or law firm, Dragon Naturally Speaking reduces your transcription costs to next to nothing, saving money in staffing, plus time. Lawyers can finally get their dictation transcribed and billed almost instantly.
Law practices have come to the realization old style tape recorders and transcribers are outdated and are nearing the end of their life span. Lawyers are in a period transition currently. Many legal professionals are working from home. Firms are expanding exponentially, but support staff is being reduced. This is the fix, save on transcription costs. Deploying a Dragon Naturally Speaking and digital voice dictation equipment solution will streamline your document production and profitability.
Speech recognition and digital voice dictation are two technologies which create a synergy, eliminating waste while quadrupling your efficiency. Walk around and dictate onto the voice recorder just like you're accustomed to, then drop it into its cradle and let Dragon Naturally Speaking turn your words into a professionally transcribed document.
The document you just automatically created is then sent via email, FTP or LAN to your secretary for proofreading and billing. Speed up your day with the best digital recorder for dragon naturally speaking, and increase your billing.
Legal Speech / Voice Recognition software & digital dictation recorders and transcribers for independent lawyers, small law offices, and large legal multi country organizations.