Court\Conference Recorder & Transcriber with Foot pedal, Record Perfectly and Transcribe all with the same unit!
The world's only 2 channel recorder that is able to plug in a 3-function foot pedal for transcription. (Foot pedal included). No need to upload your sensitive recordings to a computer that can be hacked. At the end of the day simply plug in the foot pedal into the recorder and transcribe. You even have a variable speed control to speed up or slow down the recording.
Comes with a Free Hard shell Case and Free Soft Carrying Case!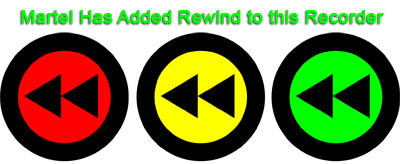 The Martel recorders are unique in that has 2 XLR inputs and true 2 channel recording. Having 2 XLR inputs lets you plug in up to 4 microphones (2 included). This is the best portable meeting recorder device for boardroom meetings, courtrooms and conference recording, all at broadcast quality. From boardrooms to courtrooms, this is the perfect conference recording equipment package for educators, court reporters, and business people. You also can adjust the speed of the voice on playback, speed it up and slow it down for accurate transcribing.
The professional conference meeting recorder is large enough to use dual XLR microphones and light enough for portability and handheld use, the Voice Grabbers offers ultra high recording quality on the go and do not need batteries.
This meeting recording equipment, solid-state recorder records to easily purchasable SD or SDHC memory cards, and gets five hours plus of operation from four AA batteries.
This is a standalone unit, and unlike most digital meeting recorders for windows, does not require a PC computer to record or transcribe.
Courtroom

Recorder Specifications:
Media
Storage: SD/SDHC (SDHC max. Size 64 GB)

Recording Formats

WAV: 16/24 bit linear PCM

MP3: MPEG1 Layer III Compression

Recording MP3 Bit Rate (Stereo): 320/256/192/128/64 kbps

Recording MP3 Bit Rate (Mono): 96/64/32 kbps

Sample rate: 44.1/48/96 kHz

Number of channels: 2 (stereo), 1 (mono)Audio System Frequency response: 20 – 20kHz (±1dB)

Signal-to-Noise Ratio 65 dB (Mic); 85 dB (Line); IEC-A-weighted THD (@ 0 VU) 0.08% (Mic); 0.02% (Line)

Dynamic range: 85dB
Inputs
Microphone (XLR) Sensitivity: 1.2 mVrms / 4.2kΩ

Line (1/4" / 6.35 mm) Sensitivity: 0 dbu / 4.2kΩ

Line 2 (1/8" / 3.5 mm) Sensitivity: 500 mVrms / 20kΩ

Outputs LINE: (2) RCA L/R @ 2.0V/10kΩ

Headphone: ¼" stereo jack @ 16mW/32Ω

Speaker (internal): 450mW/8Ω
Environmental Conditions
Operational temperature: 0 -40°C (32 - 104°F)

Operational humidity: 25 – 85% (no condensation)

Storage temperature: -20 - 60°C (-4 – 140°F)
Power
Power Consumption, Recording & Playback: 4.2W (DC)

Battery life (alkaline): 6 hours (typical)

Phantom power: 48V, 10mA

AC adapter: DA620PMD (included)

Batteries: 4 x AA type alkaline dry cells or 4 x AA type Ni-MH rechargeable batteries

Backup battery: Lithium battery for real-time clock

General

Dimensions: (HWD) 1.4 x 3.7 x 6.5" (36 x 93 x 165mm)

Weight (without batteries): 12.5 oz. (352g)