A scopist version of the Digital Court Reporter 5000 is finally here by special request.
Now you can plug the Court Reporter into your Steno machine and use it as a high powered Microphone, Works with all Steno writers Machines.
This package uses a transcription software kit with a USB foot pedal to listen\scope the audio files. So when you are done recording you on the Court Reporter 5000 you connect the USB cable to the bottom of the recorder and the other end to your PC. Next, you copy and paste the MP3 files onto your desktop, then open the software and drag the MP3 files into the software.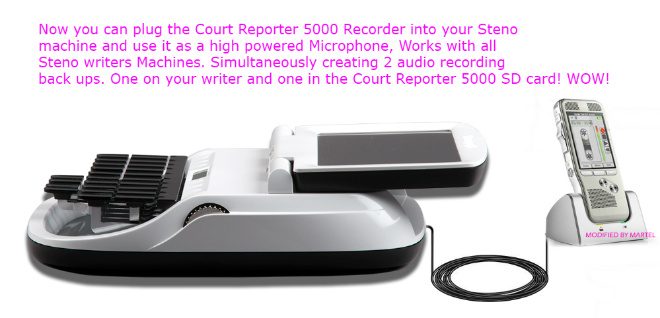 The USB foot Pedal is connected to your computer will work just like a tape transcriber you are familiar with from your tape units.. You can slow down the court recording recordings with audio by 75% and Speed it up by 125%, allowing you to speed through your document, saving you time and money.
Side Note: If you use an off site transcriptionist/scopist, you can give them the transcription kit and then email them the MP3 file from the recorder. Save money by not shipping tapes and documents.
The ALL NEW COURT REPORTER 5000 SCOPIST EDITION Digital Recorder is here in 2019 with these improved Features
Automatic Email or FTP transcription of the audio file from the 5000 recorder to your scopist/proof reader!

New Extended battery Life 30 Hours

New Rechargeable Battery included for Free so you don't have to buy batteries

Records in MP3 + Wav audio files

New Cradle for a more professional stand for the recorder

New instant Rewind for playback or read-backs

Onscreen bouncing record indicator for assurance that you are getting an audio recording
Four Reasons To Choose the Digital Court Reporter 5000
Save money by not having to ship tapes and documents.


It Can NOT be interfered with by Wifi, 3G, Blackberry, iPhone or Radio Signals.


The audio file can be Imported into your Audio Sync program such as Case CATalyst, Eclipse and StenoCat. It will then sync up with your text, providing a TRUE BACKUP in case your computer fails.



Unlimited Pause. Pause mode allows you to pause the recorder at lunch or break, then resume recording in the same file upon returning. This allows you to keep just 1 file for the whole day. All other digital recorders when you stop or pause they create a new file so you end up with 11 files or more for one job.