Meet the world's only portable 4 microphone, conference recorder package that syncs with your Audio Sync Court Reporter software recording program. Four microphones mean 4 times the coverage and 4 times the audio pickup.
What's the difference between this package and the regular Digital Court Reporter 5000? This one includes 4 omni-directional conference microphones, extending the pickup range of your recording well past 30 feet. It's the perfect solution for non technical court reporters to make a crystal clear recording of a deposition or courtroom session and it completely plugs and play, no learning required.

New Improved Features:
New Extended battery Life 30 Hours

Recording are Named by Time & Date when recorded

New Rechargeable Battery included for Free so you don't have to buy batteries

Records in MP3 + Wav audio files

New Cradle for a more professional stand for the recorder

New instant Rewind for playback or read-backs

Line inputs from PA systems or built-in microphones

Onscreen bouncing record indicator for assurance that you are getting an audio recording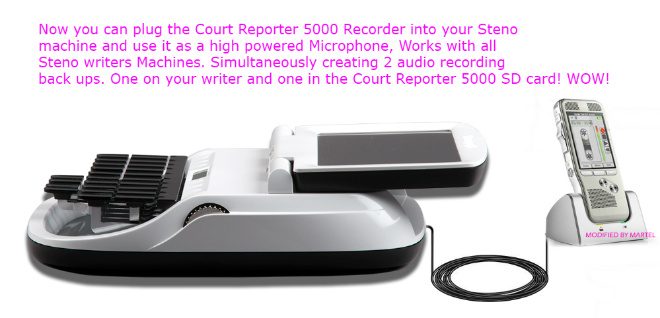 Each of the microphones has a $69 value, so purchasing them in a package ends up saving you over $100,
The microphones are powered by the recorder and have a pickup range of up to 35 feet. This package is capable of being used in a small deposition of 10 people, or a courtroom with 75 people or more.
Five Reasons To Choose the Digital Court Reporter 5000 Conference Package

Four Microphones, gives you the pickup range and audio coverage no other recorder can.


It Can NOT be interfered with by Wifi, 3G, Blackberry, iPhone or Radio Signals.


No need for a Computer to transcribe, just plug the foot pedal into the recorder.


The audio file can be Imported into your Audio Sync program such as Case CATalyst, Eclipse and StenoCat. It will then sync up with your text, providing a TRUE BACKUP in case your computer fails.



Unlimited Pause. Pause mode allows you to pause the recorder at lunch or break, then resume recording in the same file upon returning. This allows you to keep just 1 file for the whole day. All other digital recorders when you stop or pause they create a new file so you end up with 11 files or more for one job.